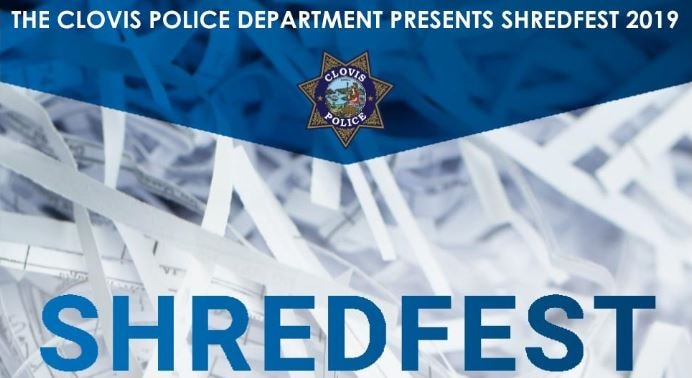 ​
Even though we live in a highly digital world, there's still a lot of important, physical paperwork many of us keep around our homes. If you're no longer in need of certain files and want to make sure they don't get into the wrong hands, you're in luck! On February 9th from 9AM-2PM*, the Clovis Police Department will be putting on a Shredfest event. Shredfest will take place at the Sierra Vista Mall in the southwest parking lot.
Instead of going out and buying a small, personal shredder from Staples, you can bring down your boxes** of receipts, medical paperwork, and other private information for the team to shred onsite. The event is 100% FREE and you can also walk away with ID theft prevention materials to help you stay safe from unethical targeting. While you're here, you can also meet the Clovis Police department, the Chief of Police, the furry K9 unit, and other community partners.


After you get your paperwork shredded and finish up chatting with community members, consider swinging over to our dealership. We're 3.3 miles away from the Sierra Vista Mall and are right across the street from the Clovis Community College. You can get to the dealership in about 10 minutes, and once you arrive you can peruse the over 200 new Nissan models we have in stock or shop our selection of used vehicles from Nissan and other well-known brands, like Chevrolet, Hyundai, Dodge, Ford, and Jeep.
We're excited to be a sponsor for the Shredfest event and hope to see you there! We look forward to meeting you and helping you safely dispose of sensitive information.


*Or until the trucks are filled
**Limit of 6-8 banker's boxers per person