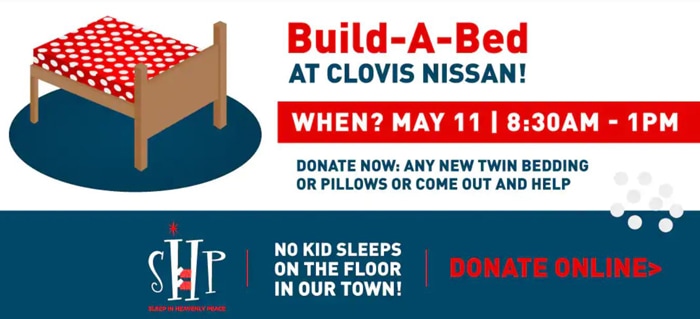 It's easy to take things for granted, like a bed, but there are many kids in the Fresno and Clovis areas who don't have a proper place to sleep at night. That's why we at Lithia Nissan of Clovis are proud to partner with Sleep in Heavenly Peace and put on a build day!
On Saturday May 11th from 8:30AM to 1:00PM, we'll be sponsoring a 10 bunk build. You can come for a little or stay for the entire day. Anyone can help, even if you don't have prior building experience, though we would love some seasoned hands on deck.
If you can't make the event you can still help by donating the following:
NEW twin sheets
NEW pillows
These seemingly simple purchases go a long way to help improve the quality of life and provide dignity to kiddos from the community.
For more information on the event you can reach out to us, or you can apply online to help volunteer. Swing by our showroom to donate bedding before this Saturday or during the event. We're located on 370 W Herndon Ave in Clovis.
To Recap...
Event: Sleep in Heavenly Peace build day
Where: at our dealership
When: Saturday May 11th from 8:30AM to 1:00PM. Or you can donate bedding and pillows
We look forward to meeting you and working together to help strengthen our communities and put smiles on many faces. Let's get ready!