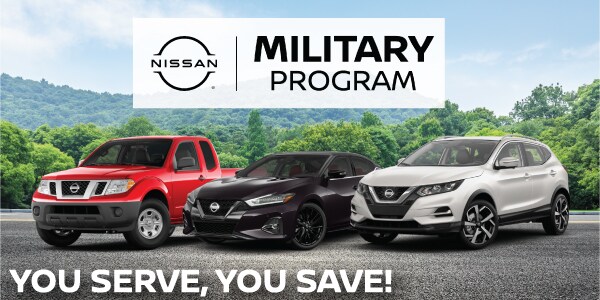 Lithia Nissan of Clovis Thanks You for Your Service
At our dealership, we are very thankful for the members of the military who make so many sacrifices so we can have the many freedoms we enjoy.  When you think about how much these courageous men and women do for us, it makes you wish you could find a way to show them how much you appreciate everything they do for this country.  Lithia Nissan of Clovis, located at 370 W Herndon Avenue in Clovis, CA, is proud to offer savings to our customers in the armed forces with our military program.
How Does the Nissan Military Program Work?
The Nissan Military Program allows drivers to get discounts on new Nissan cars, trucks, and SUVs from our dealership.  As you already know if you have shopped with us in the past, we carry a wide selection of all of the most popular Nissan models.  When you shop with our sales team, you can find intriguing Nissan vehicles, like the Nissan Rogue, Altima, Sentra, Kicks, Frontier, Murano, Versa, and Pathfinder.  Below is a list of military personnel who are eligible for the Nissan Military Program:
US Military personnel that is active duty, reserve, or retired (Must have served 20 years of active duty)
A veteran that is within 24-months of their separation from active or reserve duty
If either of these options sound like you, we can help you get a discount on your new Nissan vehicle.
As Active, Reserve and now Retiree and Veteran US Military, you and your spouses and partners are entitled to exclusive new Nissan vehicle pricing with our Vehicle PurchaseProgram in Clovis.
And now we've changed VPP pricing to make it SIMPLER and EASIER to buy! All you need is proof of service, and a Vehicle Purchase Plan (VPP) Claim ID. We like to think of it as 'Operation: Appreciation'.